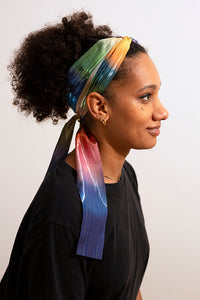 Please read our sample sale terms here
This fine, laser cut ribbon like scarf is the perfect accessory to add colour to a seasonal outfit, or a touch of sparkle to any outfit.

Tie around your neck like a sparkling necklace of colour, tie around your head for a statement head tie or bow, or use a a handbag accessory. 
Size: approx 123cm X 9cm
Digitally printed (one side) metallic fabric, lasercut single layer.
Hand wash only (do not tumble dry). Cool Iron only.
Printed and laser cut in the UK