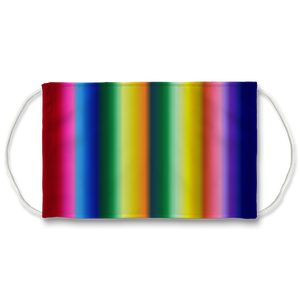 Uplifting colour and signature KJ prints are now available in this collection of protective face masks. Printed and sewn in London.

7 Layers Face Mask comes with 5 layer PM2.5 Activated Carbon Filter *Not meant to provide medical protection* You can also remove the carbon filter and use as mask cover.
This product is printed to order especially for you to ensure that your favourite designs remain more consistently available, for longer. Through this print to order process, we also avoid the culture of unnecessary waste caused by overproduction of stock. This is why the processing time of this product is a little longer than your standard stock item. We think you'll agree the extra wait is well worth the excitement of receiving a special piece that has been printed just for you, and the knowledge that you are supporting a more sustainable practice through your choice.

PRODUCT DETAILS
- 5.5 X 9 Inches (13.97 X 22.22 CM) - Adult
- 4.5 X 7.5 Inches (11.43 X 19.95 CM) - Kids
- 3 mm rounded woven ear loop elastic for comfort​
- Slip through pocket for carbon filter
- 100% Washable and re-useable
- Available in Adult and Kids sizes
- Sublimation all over printed product.
- Covers nose and mouth
- Made and Print in London
- 3 to 5 business days production time
- Only USA and UK Shipping goes out with TRACKING, Rest goes out with Standard NON-TRACKED Post.
- From every single piece of mask sale, £0.50 ($ 0.62) will go to the NHS Details: https://aop.plus/together
- Every 5% of 1000 pieces of masks has been made will be donated to the people in London who needs masks.

LAYERS
- Fabric Layer 1 - 210 gsm 2 way stretch 82% Polyester 18% Lycra (Front Piece , Printable)
- Carbon Filter Layer 2 - Anti Sticky Cloth
- Carbon Filter Layer 3 - Filter Cloth
- Carbon Filter Layer 4 - Activated Carbon
- Carbon Filter Layer 5 - Filter Cloth
- Carbon Filter Layer 6 - Anti Sticky Cloth
- Fabric Layer 7 - 180gsm 100% Polyester

LEGAL DISCLAIMER
The cover is not intended to act as a medical device or other medical product, and should not be used as a replacement for conventional and approved personal protective equipment, including surgical masks or respirators. No warranties, either express or implied, are hereby given that the cover will prevent infection or the transmission of viruses or diseases. The cover is not a substitute for professional medical advice, diagnosis or treatment. If you have any specific questions about any medical matter, you should always consult a doctor or other healthcare provider.

Your products will be printed with love, and securely packed and shipped with care within 3 - 5 business days approximately. By knowing the estimated delivery time, you can determine how long it will take to receive the item.

*Please note that this is a handcrafted cut n sew garment and there may be tolerances of up to 1/4" (.6cm) on finished size.
* Please note that the colours shown are for illustrative purposes only and may differ from actual product colours
* Due to the nature of the use of this product, we are unable to offer any returns or refunds on any face masks.